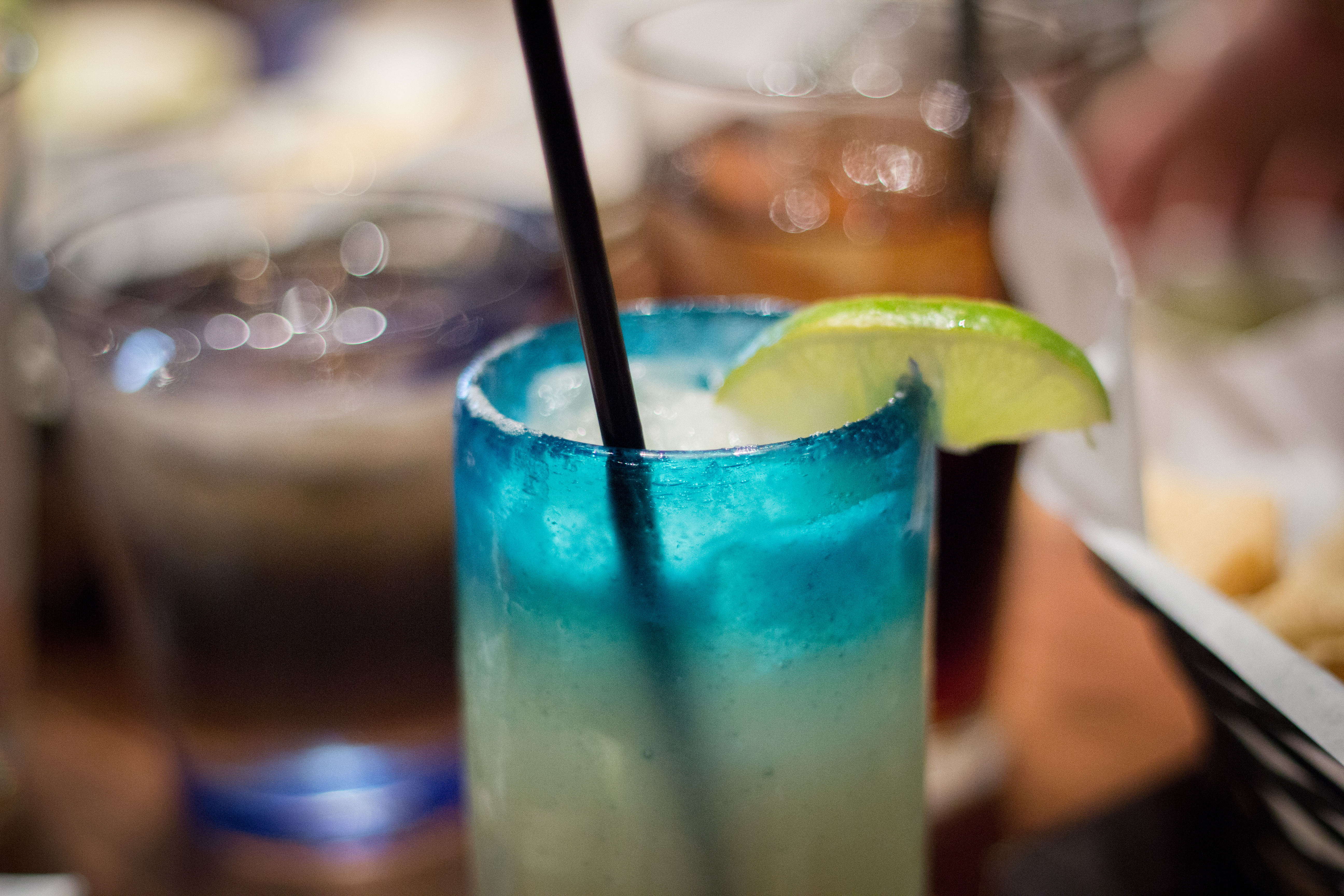 nada | Indianapolis
It happened accidently. One night as we walked down the street in downtown Indianapolis, we found a pretty little restaurant with wood paneling and flower beds, adorned with a bright, colorful sign displaying a four-letter word: nada. At the time we had no idea what this place was. The sign or building had no further description to give us some kind of hint. Colt said, "Look how cute that place is! I want to go there." The next day, that's exactly what we did.
In between PRSSA conference sessions, we were all hungry, but we didn't know where we should eat. We tried a sports bar but the wait was extreme. Then we remembered that cute little place down the street. What kind of food do they have though? Is it going to be super expensive? These were the thoughts we had as we considered eating at nada.
The menu on the outside of the building told us they served "Modern Mexican Food with Electric Design." If you know me, you know guacamole is my favorite food and tacos are my favorite food group. You had me at Mexican.
Before I overuse the phrase "best I ever had," I'm just going to say right now  I could eat at this one restaurant for every meal for the rest of my life and be happy. We ate here for two meals during our trip and everything I ate was the BEST THING I EVER HAD.
Not only was the food amazing, but the restaurant itself was the cutest I had ever seen. Many colors filled the space, a warm atmosphere of red and yellow with some blue. They mixed so many different wall and floor treatments; wood panels, tile, colorful wallpaper, curtains and metal. Somehow it all worked really nicely together. To my right, colored, glass bottles stuck into the wall made of wood panels – which I later realized went all the way through into the bathroom. To my left, the booths were all made of teal-colored distressed wood. The ceiling alternated with wooden beams and ornate tile. No surface was left untouched. And no two surfaces were exactly the same.
The first day at nada, we ate from the brunch menu.
To start, we had the salsa trio, which came with a mild red salsa, a medium green salsa and a hot yellow salsa. The red salsa was pretty tasty and I'm not really one for green salsas, but the yellow, hot salsa had such a wonderful flavor. I usually don't love super hot foods, but wow, this salsa was amazing!
We also ordered the appetizer guacamole. Like I mentioned before, guacamole is my favorite food. I have high standards when it comes to guacamole. (Ask my boyfriend every time we go to Chipotle.) I honestly couldn't get enough of this guacamole. I would have taken gallons of it home if I could…and if it would last longer than 10 minutes. No joke. THE BEST.
For lunch, all three of us ordered the Quesadilla "taco" Salad. Everything listed in the description sounded appealing and I was in the mood for something "light." The plate came with a quesadilla with chicken, chorizo, ancho chile, charred corn and cheese inside, topped with a field greens salad with creamy avocado dressing mixed in. When I ordered, I didn't expect for the salad to literally come on top of a quesadilla, but that's what the name said so I shouldn't have been that surprised.
All three of us really enjoyed our meal. The service, too. So much that we had to bring everyone back for another visit.
During our second visit we ate from the lunch menu. This menu had the option to order a taco box. You could pick your choice of two tacos and it came with a side and a warm doughnut hole (all pictured). We started with the same appetizers (guac and salsa) and then most of our group ordered this taco box.
I chose the Crispy Pork Belly tacos which included guacamole, pickled pepper & onion, guajillo diablo salso and cilantro. Our server also suggested that we could trade tacos among ourselves if we wanted to try a different option for our second taco, so I traded with Angelina for the Senor Mu Shu taco. Both tacos were again, amazing.
But the item I'd write home about was the Sweet Chili Glazed Nada Fries. I still dream about these bad boys. The crispiness combined with the sweet and spicy was the best flavor combination. And to top it all off we still had our doughnut holes, which were still gooey and warm by the time I got to them.
If you're ever in the area of a nada location, I highly HIGHLY recommend checking it out. Nada may mean "nothing" in Spanish. But this place was everything.
What I Ordered
Day 1
Salsa Tasting Trio 
fire-roasted tomato ancho salsa + jalapeño salsa verde + habanero "kreeper" salsa
O.G. Guacamole 
avocado + lime + tomatillo + crudité chips
Quesadilla "Taco" Salad 
chicken + chorizo + ancho chile + charred corn + chihuahua cheese + creamy lime dressing
Day 2
Pink Grapefruit Margarita 
el jimador blanco tequila + triple sec + lime + small-batch pink grapefruit sorbet [top right]
Salsa Tasting Trio & O.G. Guacamole 
The Taco Lunchbox 
Crispy Pork Belly Tacos – guacamole + pickled pepper & onion + guajillo diablo salso + cilantro [pictured]
Sweet Chili Glazed Nada Fries – scallion + crema [pictured]
a.g.f. (almost guilt free) doughnut [pictured]
*It has been a while since I went, so the menu items may have changed.*
Photos by Hayley Jurek
xoxo

Jess